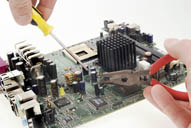 text size
About AVS
Established in 2004, AVS provides business to business Information Technology services throughout the greater New York Metropolitan and Long Island area. Using a combination of both onsite and remote support services to manage critical infrastructure for our clients, we pursue opportunities to build and support computer network infrastructure for small and mid-size businesses from diverse industries.
Technology is a necessity in today's business, and critical to your business success. But how do you find the right IT solution and make it work for you? Having a leading IT consulting firm to help you is the key to better IT management. It all comes down to one simple fact. Technology that fits your business drives your business to be more profitable, productive, and competitive.
At AVS we understand the technology challenges that owners and managers of small businesses face. As small business network support specialists, we can provide you with the resources you need to help you identify, implement and maintain the technologies that you are – or should be – using to increase your productivity, reduce your expenses, and manage your risks.