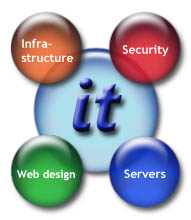 text size
Services
AVS Inc. is a unique IT solutions provider for a wide range of businesses. We work directly with each client to develop the right IT strategy and translate it into viable, sustainable solutions which meet their business objectives. We help you identify your technological needs and implement the best solution for your situation. Whether it's your Infrastructure, Security, Servers or Web Presence, effective technology planning will lower your costs, increase revenue, and reduce risks.
Some of our services include the following:
| | |
| --- | --- |
| • IT Strategy Planning | • Network Analysis and Design |
| • Business and Systems Needs Analysis | • Standardization |
| • Security Analysis | • Support |
A proactively maintained network is the best way to minimize your costs and to keep your systems running smoothly. Based on your environment, the amount of time required to administer your network will vary. AVS will work with you to determine what works best for your business.
Ready to find the Solution that is Right for You? Contact AVS Today!